Our Attorneys
Tom Dickey and his associates have tried and handled cases in over half of the 67 counties in Pennsylvania, as well as in Federal Court.


Thomas M. Dickey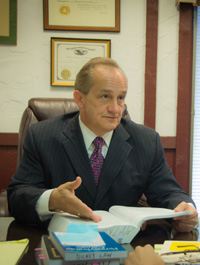 Attorney Thomas Dickey is a lifetime resident of Blair County, Pennsylvania. A graduate of Altoona High School, Dickey obtained an undergraduate degree in history/political science from St. Francis (College) University in Loretto, PA. After receiving his law degree from Ohio Northern University, Dickey joined the Blair County Public Defenders Office where he developed his trade for helping citizens navigate the legal system. Dickey began his private practice in 1984, leading to a successful legal defense career with acquittals in cases ranging from DUI's to first degree murder, and winning history making appeals from the Supreme Court of Pennsylvania, resulting in new trials and restoration of custodial rights.
As one of few death-penalty qualified attorneys in the area, Dickey is known in many Pennsylvania counties for his strong representation in the courtroom, providing vigorous defense against all levels of criminal charges, and active representation in civil litigation. A passionate advocate for his clients, Dickey believes in the Constitution and the blueprint it gives for being a citizen in this great country! "EVERYONE deserves to exercise the rights provided there! And my job is to make sure YOUR RIGHTS are upheld. You deserve the best representation and my associates and I are there for YOU."
Mr. Dickey is also a regular guest commentator on local and national media, including CNN.
Dickey practices in over 50 counties of Pennsylvania and in Federal court. Call today to learn about your rights in criminal, family, civil and federal matters.
David J. Kaltenbaugh, Esquire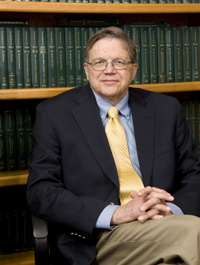 Attorney David Kaltenbaugh has over thirty years of experience practicing law. With an under graduate degree in history from Juniata College, and a graduate of the Dickinson School of Law, Attorney Kaltenbaugh began his legal career in a private civil practice. He began his criminal law practice with the Cambria County Public Defender's office, and then acted as an Assistant District Attorney for the Cambria County District Attorney's office for over ten years. With so much experience, bringing Attorney Kaltenbaugh in as an Appellate specialist was a no brainer. Because of the work he has done from both sides of the aisle, Mr. Kaltenbaugh will provide you with the best legal counsel available.